6-7 October 2022
12:30-5:00 p.m. EST
Why Attend the Summit
The annual MITRE Chief Data Officer Summit is a no-cost, half–day, government–only opportunity to engage with peers, brainstorm on hard data problems, and compare solutions across the IC, DoD, and Civilian sectors. This year's Summit will focus on the strategic future, on practical data solutions to realize that future, and maximize Artificial Intelligence and Machine Learning.
Federal Chief Data Officers are collaborating with a wide variety of partners to harness the power of data to speed decision making. In this rapidly changing and more contested global environment, data must be accessible and interoperable across boundaries and domains, managed by systems that expose data for rapid use by both humans and machines to produce signals for consumption by a workforce that understands the technological underpinnings of that exploitation. Successful solutions require common processes in data, infrastructure, security, and technology adoption. More than ever before, mission success and business effectiveness demand data interoperability, getting the right data to the right users at the right time, with those users possessing the skills needed to draw sense from the data available to them. Data interoperability enables data sharing, automation, machine learning, and will ultimately allow for data-driven decisions to be made at the speed of mission. Leveraging knowledge, insights, and lessons learned across Civilian, DoD and Intelligence departments and agencies will help CDOs to envision the future of data and implement more robust data and AI analytic strategies.
Intended Summit Audience
Federal Chief Data Officers, Chief Analytics Officers, Chief AI Officers, Chief Evidence Officers, and Chief Statistical Officers and their staff, spanning Civilian, DoD and Intelligence departments and agencies.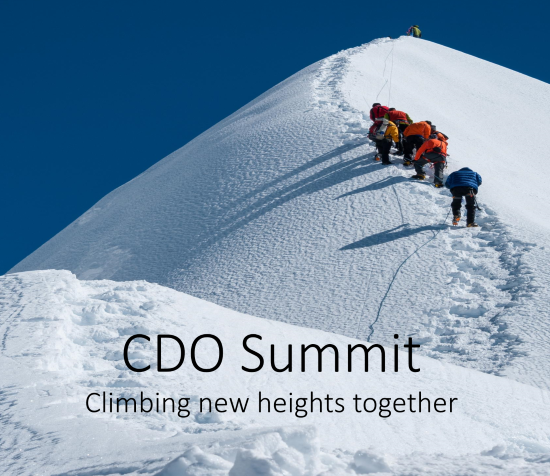 Zero Trust• Government Use of AI• Public Private Information Sharing• Data Interoperability• The State of Data Governance• Open Data and Transparency• Data Authorities• CDO Certificate Programs• Equipping the Workforce for the Future• Cultivating a Data-Culture• Ethical AI• Data Platforms, Hubs, and Fabrics• DataOps• Data Broker• Data and Cybersecurity• Data and AI Analytics
• Human Language Technology• Equity through Data• Bias Mitigation• Supply Chain• Customer Experience• CDO Effectiveness
To register for the 2022 Annual CDO Summit, please fill out the Account Request Form below: